Brighten Up Toys & Games Blog
Full details below, to purchase your team's ticket CLICK HERE. Piece your way to victory at the FIRST Brighten Up Puzzle Competition! Assemble your puzzle team, choose your challenge, register at Brighten Up Toys and Games in either Fergus or Erin, practice and PUZZLE! Sunday October 22, 2023 Registration Time: 12:30pmCompetition Start Time: 1:00pm Centre Wellington Community Sportsplex 550 Belsyde Ave E, Fergus Sponsored by: Cobble Hill Puzzles and Ravensburger Puzzles Your team registration fee includes:  Participation in this exciting competition as teams race to finish their puzzle first! Take home the puzzle your team completes (one per team) Light refreshments catered...
---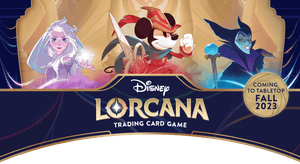 Thank you for your interest in Ravensburger's Disney Lorcana Trading Card Game - we are all very excited about this new product! Our first shipment of Lorcana HAS ARRIVED! As we have received a very limited supply from Ravensburger, it will be available for purchase IN STORE ONLY and while supplies last. We will be respecting the MSRP on all items:Starter Decks, $22+HST eachBooster Packs, $8+HST eachGift Sets, $40+HST eachIllumineer's Trove, $65+HST each For this reason, we will not be able to sell sealed boxes of booster packs. We will also not be able to hold or pre-sell product. Thank...
---
It's a GREAT time to start shopping for the holidays, with this amazing sale on one of our most popular toy lines!!! PLAYMOBIL EARLY BUY SALE 20% Off on All Regularly Priced* In-Stock Playmobil Toys LIMITED TIME ONLY Aug 11th – Sept 3rd, 2023 *Clearance/reduced/discontinued items excluded
---
It's a GREAT time to start shopping for the holidays, with this amazing sale on one of our most popular toy lines!!! PLAYMOBIL EARLY BUY SALE 20% Off on All Regularly Priced* In-Stock & Special Order** Playmobil Toys LIMITED TIME ONLY Aug 11th – Sept 4th, 2022 *Clearance/reduced/discontinued items excluded**Orders must be paid in full to receive discount, and will be available by Dec. 2/22 (or may receive refund)
---
Our friends from Makin' Faces are BACK! Tania and the crew are ready to wow you with their incredible free-hand face painting. If you can imagine it, they can (almost certainly) paint it! Off-the-face painting is still a great option, too! Many kids - and adults - prefer a fun arm or leg 'tattoo'.  Visit Brighten Up in July & August for FREE FACE PAINTINGby Makin' FacesThursdays in Erin& Fridays in Fergus3pm to 6pm It's our way of saying THANK YOU! for supporting your Local Toy Store! https://www.instagram.com/makinfacesinc/ https://www.facebook.com/makinfacesfacepainting