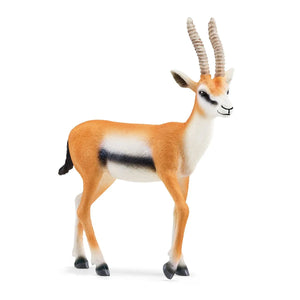 Schleich
Thomson Gazelle (Schleich #14861)
Regular price
$10.00
$0.00
Unit price
per
Catalog Number 14861
On the Serengeti plain, Thompson gazelle live in herds of 100 or more – though we suggest you only buy a few to get started. Thomson's gazelles are sometimes called Tommies, but you can call yours Jake...or Emily...or Carter...or whatever you like! With a schleich® gazelle toy in your hand, you can make up any store you like.

Age Recommendation" 3-8 years
Dimensions: 3,5039 x 0,8661 x 3,8189 inch

Is that a rustling in the bushes? The pretty Thompson gazelle carefully observes its surroundings. There might be a cheetah hiding somewhere. The gazelle isn't interested in ending up as that cat's breakfast! Unfortunately, its long, twisted horns are of little use against the cheetah. The best mode of action is to run away, dodging left and right like a pro. Or to stays put, where the grass is low and it has a good overview. Actually, the living room carpet is a pretty safe bet, too!
Additional Information
AUTHENTIC DESIGN. So realistic even Mother Nature can't spot the difference.
QUALITY YOU CAN SEE & FEEL. Durable enough to survive the African savannah…and your child's toybox.
BEAUTIFULLY DETAILED. A schleich® toy gazelle is so detailed you'll feel like you stepped onto the Serengeti.
GIFTS FOR ANIMAL LOVERS. Perfect size for wild animal stocking stuffers, party favors, gift bags, and animal gifts under $10.
ANIMAL TOYS FOR KIDS. A schleich® toy taps into a child's natural storytelling superpowers.
---
Share this Product
---